---
The Colchester Highland Games & Gathering Committee will be holding their
Annual General Meeting at the
Bible Hill Village Hall,
69 Pictou Road,
Bible Hill
on Thursday September 26th 2019 @ 7pm. 
We are looking for anyone interested in sitting on our board of directors or anyone who would like to assist in the coordination of the games & gathering.
This meeting is open to all members of the general public.
If you would like any further information or to register your interest,
please contact us HERE 
---
---
Due to Hurricane Dorian the highland games was cancelled in 2019.
BUT - WAIT - WE DIDN'T LET THE STORM BLOW US AWAY!
On Friday, September 6th we hosted a
HURRICANE DORIAN HIGHLAND GAMES EXTRAVAGANZA
which took place at the Civic Square Truro from
6pm until 10pm
Events included
Tossing the Caber
Highland Dance Performance
Kids Races - Sack Race/Egg & Spoon Race
A record breaking chainsaw juggle by Ian Stewart of Truro
Tug O War Competition
'Wife' Carrying Competition
Gallus Gael Historical Re-enactment
Craft Vendors
& a special performance by
Clann An Drumma
 This event was FREE - yes F.R.E.E.
Hope you didn't miss it!
---
---
The COLCHESTER HIGHLAND GAMES & GATHERING is not only a
SPORTING EVENT (Heavyweights Maritime Championship, Wrestling, Tug O War & Athletics)
but also brings you
DANCE (Irish, Scottish Highland, Mik'maq & Ceilidh)
MUSIC (Pipe Bands, Live Music Stage with Internationally acclaimed artists & local Acts)
HISTORICAL RE-ENACTORS (18th century sword & muskets & modern warfare)
ARCHERY, FOOD TRUCKS, CRAFT FAIR, WORKSHOPS & Much, Much more...
Come Celebrate Your Culture & Heritage
---
---
---
---
Grab your 'wife', girlfriend, daughter or your best friend and see if you can outlast the best by carrying her/him the full distance.
 The winning couple will take home the 'wife's' weight in kg as a cash prize.
If you think you have the stamina to take first place and win a place in history register HERE
 Come along to our Friday night event and you can still enter the wife carrying competition with a twist!!!
 In 2020 the Games & Gathering are hosting an amateur piping competition.  
It is open to all pipers with pipes of any description.
The competition will be judged by a celebrity judge.
Apply to enter HERE for 2020 games and
 the chance of winning a cash prize.
Anyone who lives locally and has a talent that you would like to show off are now invited to set up at the 2020 games. 
Pay the admission fee and set up your hat and collect some cash!
Information & application form available HERE
---
---
Interested in getting involved with the planning and implementation of our 2019 Games?
email us HERE  fill in the form HERE or see our volunteers page HERE for detailed coordinator job descriptions and positions open.  we are also looking for on the day volunteers.
Drop in Meetings take place at 7pm in the Bible Hill Village Hall, 67 Pictou Road on the last Thursday of every month. (except June)
We will also have two additional meetings in the run up to the games on August 19th and September 3rd.
These meetings are very informal & Everyone is welcome.
Our Games are entirely run by volunteers who fundraise throughout the year in order to pay for services required to continue to make this event the
'Best Games in the Maritimes' 
The games supports local businesses, musicians, athletes, children & more... help us continue to provide this event by attending our fundraisers and the games themselves or by sponsoring one of the Games events.
  We appreciate all contributions no matter how BIG or small.
---
---
PLEASE NOTE
CEILIDH DANCE PARTY
Now postponed due to Hurricane Dorian
Stay tuned for a new date shortly
We won't let this storm blow us away!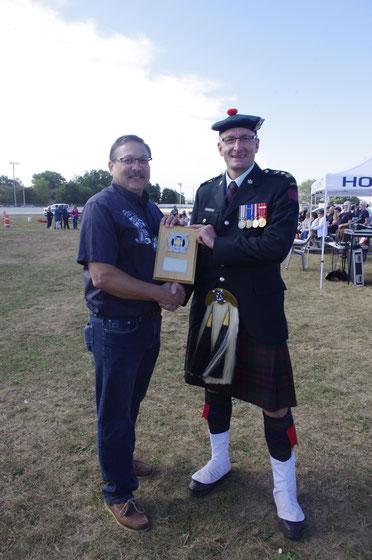 Chieftan O the Games
2019 marks the 75th anniversary of 
The Battle of Normandy
in which Canada suffered a great loss of life.
We therefore felt it only fitting that we give this honour to 
Lt Col Colin Todd
of 
The Nova Scotia Highlanders
Chief Bob Gloade (2017/18 Chieftan-left) receiving a Plaque from Lt Col Colin Todd (right)  at the 2018 games to commemorate the contribution of the Mi'kmaq in the Canadian Armed Forces.
'INNER ARTIST'
Release your 'Inner Artist' and create your very own masterpiece
Had fun at paint night then come along and learn the more in depth Paint techniques,  tools, colour mixing  and mediums,  then paint right alongside the artist to create an amazing  work of art. 
For more information click 
Click on the category required below
Vendors - $15 entry to games only - no space fee
 Non Profits - Free entry to games - no space fee
 Clans - Free Entry to games - no space fee
 Buskers - $15 entry to games only - no space fee
Highland Dance - Free entry for competitors only - competition fee applies - medals/cups
Solo Piping - Free entry for competitors - competition fee applies - Prize money/medal
Tug O War - $15 entry to games - Competition fee applies - Prize money/cup
Wife Carrying - $15 entry to games - competition fee applies - Prize money based on wt
Wrestling - Free entry for competitors only - Insurance fee if not registered with WNS - medal
Heavyweights - $15  Entry fee - Cup/medal/Tshirt
Our Pantomime was a great success. 
Thank you to all the actors/stage crew/choir and everyone who took the time to volunteer for our stage production.
We would also like to thank all those who bought tickets to this event, we hope to see you in 2019 for our production of CINDERELLA
Marigold Theatre, Truro on December 6th, 7th & 8th 
* * * * *
Voted Best Games in the Maritimes 2017 by the
Federation of Scottish Culture
Come along and see our 'Twist on Tradition' in 2019
---
---
---
---
Would you like to see your name or company's name 
on the side of the Maritime Championship Caber? 
On a banner on our live music stage? 
On some of our athletes or volunteer T shirts?
Get mentioned throughout the day during the games?
Be in our programme?
Be on our field posters?
Featured on our Website?
With over 1500 visitors to our games your name will be out there
Don't miss out on this great opportunity.
For more information on partnering us in our quest to bring the most spectacular event to Colchester County go to the SPONSORS PAGE or contact us HERE
The Colchester Highland Games & Gathering will bring much needed
tourism, business & prestige to our county.  
Alternatively, Please come along and support one of our fundraising Events.  
---